Navjot Singh Sidhu, congress leader-released from custody...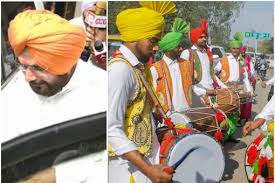 Congress leader Navjot Singh Sidhu was released on saturday after spending nearly 10 months in the Central Jail in Patiala. As soon as Sidhu came out, the workers standing outside the jail gave him a grand welcome by playing drums. Not only this, the supporters also raised slogans of 'Navjot Sidhu Zindabad'. On May 19 last year, the supreme court sentenced Sidhu to one year in the road rage case. But due to his good behavior in jail, he was released two months earlier.
After coming out of jail, Navjot Singh Sidhu lashed out at the Modi government. He said, there is no such thing left as democracy. Democracy is shackled, institutions have become slaves. punjab is the target of a plot to impose president's control. Revolution occurred whenever a regime took power, and today I claim that rahul gandhi is the face of that revolution.
He said that minorities are being targeted in the country. Sidhu rebuked the administration, saying that if you attempt to weaken punjab, you will also become feeble.
Sidhu contended that his one-year sentence to prison was unjustified and claimed that his release today was purposefully delayed so that his supporters and the media could depart from the outside. "Send me to any prison. No one under Section 323 received even a week's worth of prison time, but I did. The government only put off my release so that my supporters and the media could depart, he claimed.
మరింత సమాచారం తెలుసుకోండి: