Nita Ambani danced on 'Raghupati Raghav' at the launch of 'NMACC', looked stunning in red-golden lehenga

Recently, a video of businesswoman Nita Ambani from the launch event of her Cultural Art Center 'NMACC' has surfaced, in which she is seen dancing to the song 'Raghupati Raghav'.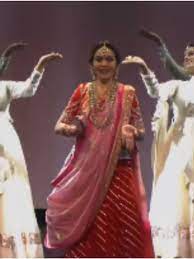 Nita Ambani, wife of India's veteran businessman mukesh ambani, inaugurated the 'Nita mukesh ambani Cultural Center' (NMACC) on 31 march 2023, fulfilling one of her big dreams. Along with indian celebs, international stars also participated in this star-studded event, whose pictures are doing the rounds on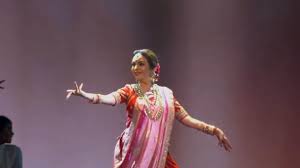 social media. Meanwhile, a video of Nita Ambani has surfaced, in which she is seen performing a special dance.
Nita Ambani did a great dance in 'NMACC'
A video of Nita Ambani has been shared from an instagram fan page of the Ambani family, in which she is seen doing a fabulous dance on the song 'Raghupati Raghav raja Ram'. During this, Neeta attracted the attention of the people along with her dance as well as beauty, who was looking very classy and beautiful in red and golden lehenga.


Nita Ambani wore Banarasi saree at the launch event of 'NMACC'By the way, Nita impresses everyone with her stunning outfits and classy look during any of her family functions. Like every time, this time also her ethnic look was very beautiful. In fact, for the opening of her Cultural Art Center, Neeta wore a blue Banarasi saree with golden threadwork.

She complemented her look with matching earrings, bangles and a huge diamond ring. However, what grabbed all the attention was her massive emerald necklace, adding a royal touch to Neeta's look.

What is 'NMACC'?Coming to 'NMACC', this cultural center includes free classes for children, students, senior citizens and Divyang. It will include competitions, prizes for teachers, literacy programs and the best of music, theatre, fine arts and more from around the world. Before the inauguration ceremony, Nita Ambani had expressed her gratitude and shared her thoughts about it.

He had said, "It has been a sacred journey to bring this cultural center to life. We are committed to promoting and promoting our artistic and cultural heritage in cinema and music, dance and drama, literature and folklore, arts and crafts and science and spirituality. We wanted to create a place. A place where we showcase the best of india to the world and we welcome the best of the world to India."

The launch of 'NMACC' also featured a special arts and crafts exhibition called 'Swadesh'. This was followed by three shows, a musical drama titled 'The Great indian Musical: Civilization to Nation', a dress art exhibition titled 'India in Fashion' and a visual art show titled 'Sangam', which showcased India's cultural heritage and diversity. featured.

మరింత సమాచారం తెలుసుకోండి: