Salman Khan's security boosted after a death threat...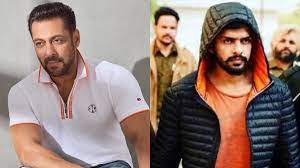 Bollywood's dabangg salman khan has received threats through e-mail. An FIR has also been registered against gangsters lawrence Bishnoi, Goldie Brar and Rohit Brar for threatening them. The actor's manager and close friend prashant Gunjalkar has lodged a complaint with the police. Security has been increased outside salman Khan's house in Mumbai.
Salman Khan received a threat mail following which an FIR was registered at the Bandra police station under sections 506(2), 120(b) and 34 of the IPC. The threatening mail was sent to Salman's official email on saturday afternoon. In the email, Goldie Brar's aide Mohit referred to lawrence Bishnoi's recent interview that he had given from Tihar Jail. He told that Goldie wants to talk to the actor face to face.
What was in the threatening mail?
According to this threatening mail, it was written in it, he might have seen the interview (Lawrence Bishnoi), but if you haven't seen it, he will see it. Get the issue resolved if you want to, and let them know if you prefer a face-to-face meeting. Since it was revealed in due time, the only emotion felt the following time will be astonishment.
Lawrence Bishnoi recently threatened
In an interview in the past, lawrence Bishnoi had given an open challenge to kill salman Khan. In a conversation with ABP News, lawrence Bishnoi told the death of the actor from inside the jail as the only goal of his life.
మరింత సమాచారం తెలుసుకోండి: