Ukrainian army dance to Naatu Naatu..!?

RRR is the movie that made the whole world look towards telugu cinema. Directed by SS Rajamouli, this action movie has made a worldwide impact and has raked in crores of rupees. Along with achieving sensational success, telugu cinema has maintained its stamina at the international level. The song 'Naatu Naatu' from the movie rrr, composed by two big heroes of Tollywood, ntr and ram Charan, has also shown the effect of making everyone in the world go crazy and take steps.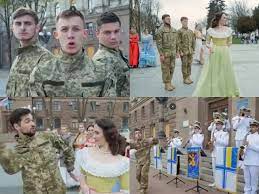 So this song has become a part of everyone's celebrations. That's why this Naatu Naatu song also got an oscar award.Even though the movie rrr (Raudram Ranam Rudhiram) has been released for many days, its impact is still visible. Most notably, the song 'Naaatu Natu' is still trending in many areas. In this order, the army of ukraine recently danced to this song with moving steps. army officials from ukraine experimented with the help of drones. The song Naatu Naatu from the movie rrr was used for this. They all danced to this song and flew drones with remotes. Along with men, ladies also participated in this. This video was tweeted by celebrities in the country. Meanwhile, most of the shooting of the movie rrr (Raudram Ranam Rudhiram) was shot in Ukraine. Members of this film unit interacted very closely with the army there at that time. This has been revealed by many army personnel themselves. That is why it is known that ram Charan also helped some soldiers.

మరింత సమాచారం తెలుసుకోండి: