Section 144 imposed:High alert-Internet also closed...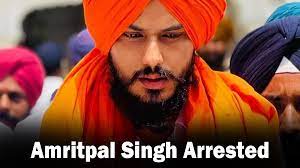 Amritpal Singh, the leader of Waris punjab De and a supporter of the Khalistani movement, was apprehended by the authorities on saturday afternoon along with a number of his associates. There is tension in punjab as a result of Amritpal's detention. police officers have been placed everywhere in punjab as a result. Internet access has also been suspended throughout the province until sunday at midnight. Additionally, Section 144 has been put into effect widely.
Amritpal Singh is the subject of numerous cases, two of which are connected to hate speech. It is being told that self-styled Sikh preacher Amritpal has been taken into custody near Nakodar, but it has not been formally verified yet. The punjab police has urged the public not to believe any of the numerous rumours spreading on social media in the midst of the action being taken against Amritpal Singh. people are urged not to panic and to refrain from disseminating false information and hatred speech.
Internet shut down in the entire punjab till tomorrow
According to a top official with the home Department, internet access will not be restored in the state until sunday at noon. The police in jalandhar district's Mehatpur village halted Amritpal's convoy. To catch him, more than 50 police cars were sent out. Some Amritpal Singh, the leader of "Waris punjab De," supporters posted some videos on social media with the allegation that they are being pursued by police. Amritpal can also be seen sitting in a car in one of the videos, and one of his associates can be overheard stating that the police are looking for "Bhai Sahab." (Amritpal).
మరింత సమాచారం తెలుసుకోండి: