Anti-Khalistan protest: british Cop Joins Indians...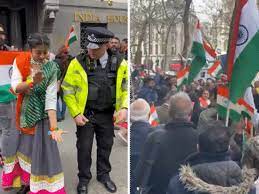 On Tuesday, once again a crowd of hundreds of people gathered with flags in their hands at the indian Embassy in London. This time the flag of Khalistan was not in the hands but the indian tricolour was there. All indian citizens including Sikhs were involved in this crowd and all of them were showing solidarity against the ruckus of Khalistan supporters and misbehaviour with the indian flag at the same place on Sunday. hindi film songs were also being played amidst the slogans of Bharat Mata Ki Jai. Some youths were also dancing enthusiastically. Meanwhile, suddenly the atmosphere changed, when a policeman from london, who was engaged to handle the crowd, also started dancing to the song with the Indians. This policeman also learned indian dance steps from a girl. The video of this policeman is going viral on social media.
Slogans raised against Khalistan opponents
On Tuesday, a crowd of hundreds of people reached the indian High Commission carrying the tricolour in their hands. During this, it felt as if it is not london but india and it is Independence Day or Republic Day. The people present in the crowd raised slogans against the Khalistan supporters and accused them of trying to spoil india and peace here. He said that this demonstration is being done only to answer such people.
A bigger flag has now been put up on the indian High Commission building in london, whose photos have been widely shared on social media. people have also criticized the activities of Khalistani extremists on social media.
మరింత సమాచారం తెలుసుకోండి: