Rahul gandhi Disqualified: priyanka challenged the Govt - P1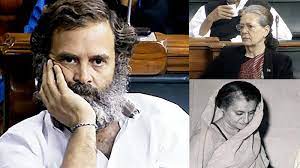 The parliament membership of former congress National President rahul gandhi has been cancelled. In the defamation case, the surat Court of gujarat had given rahul gandhi bail and thirty days to appeal in the High Court. On the other hand, under the rule of punishment of 2 years or more, rahul gandhi has been stripped of his membership in Parliament. rahul gandhi is trending on twitter on this issue. From the political corridors to the common man have given reactions on this issue.
Rahul Gandhi's sister and congress General Secretary priyanka gandhi have made a scathing attack on the bjp on this issue. priyanka said on thursday evening, my brother raised the issue of Adani, and that's why all this happened. Then priyanka challenged the government and said, we have the blood of martyrs in our body. We won't back down; we're going to battle.
Earlier in the day, priyanka gandhi surrounded prime minister Narendra Modi by writing a tweet. She added, "Narendra Modi ji, your sycophants referred to prime minister Mir Jafar, the son of a martyr, as a traitor." Who is rahul Gandhi's father, was a query posed by one of your chief ministers? Following the custom of Kashmiri Pandits, a son wears a turban after his father's death, maintaining the tradition of his family." priyanka has slammed bjp and PM Modi through her twitter thread.
మరింత సమాచారం తెలుసుకోండి: