"I'm Back": donald trump Back on Facebook!!!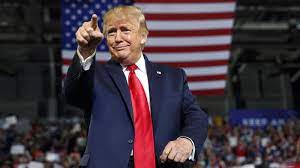 Donald trump, who disappeared from all social media platforms two years ago, is slowly making a comeback. Former US President donald trump has posted a post on facebook after two years. donald trump has written in this post, 'I am back' means 'I am back'. Recently, Donald Trump's YouTube channel has also been restored. All social media handles of donald trump were banned after the violence on Capitol Hill following the results of the US presidential election.
Donald trump, who has announced to contest the election of the President of America again in 2024, has posted a 12-second video on Facebook. This video is believed to be after his victory in the 2016 elections. It is being speculated that with this post, donald trump is officially starting his election campaign. donald trump has returned on facebook and Instagram.
The ban was imposed after the Capitol Hill violence
Let us tell you that after the election results of America, there was a lot of violence in january 2021. Donald Trump's supporters attacked Capitol Hill and created a ruckus. During this, donald trump was continuously chirping and posting on social media. These posts of his were considered an act of provocation and all his social media handles were closed.
Actually, after the defeat in the election, donald trump raised questions on the results of the election itself. After this, donald trump supporters became furious and started violence on the streets. Joe Biden was victorious in this election and became the President of America. Now donald trump is once again beating the beat that he will contest the US presidential election this time too.
మరింత సమాచారం తెలుసుకోండి: