This title should be given to Rajamouli..!?

Filmmaker Dr.D.Ramanaidu is hailed as movie Mogul by the industry. His unbeaten film journey is an inspiration to many. ramanaidu achieved success as an actor, producer, and director. If the movie Mughal title is dedicated to him, who is the most deserving one? The debate is going on in India. Fans are saying that the title should be dedicated to rajamouli, who without any doubt brought telugu cinema to fame. Because rajamouli followed up the monumental success of Baahubali with rrr (2022). rajamouli received international stardom with Baahubali-Baahubali 2- R.R.R. The song 'Naatu Naatu...' started a dance craze on social media. hollywood is in awe of Rajamouli's filmmaking sense.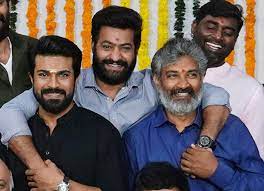 S.S. rajamouli making any film means... it becomes a brand in itself. rajamouli gets a movie every three to four years. But he is making a movie... Actors queue up at rajamouli for cameo roles. alia bhatt and ajay Devgan are examples of that. rajamouli recently signed a deal with American talent agency Creative Artists Agency. With this, he is ready to become a crossover filmmaker. rrr has been successful on Netflix in countries like Japan. Here the hindi dubbed version became one of the most-watched international titles of 2022. This made rajamouli a global brand.
Apart from comic relief 'Amar Chitra Katha' comics, rajamouli loves Wilbur Smith novels. Only rajamouli has the ability to combine two top heroes of the industry. rajamouli is an extraordinary director who convinced two telugu superstars to share screen space. Rajamouli's work in showing both of them to the extent of their roles without any egos has come out with R.R.R. There is no doubt that rajamouli alone has the right to be the 'Movie Mughal' of indian cinema.

మరింత సమాచారం తెలుసుకోండి: