Nikamma Public Review: The film 'Nikamma' directed by Sabir Khan was released in theatres. Actress shilpa shetty, who is trying to make a comeback in bollywood through this film, has suffered a setback. This is his second consecutive film, which is being disliked by the people.
The film makers of bollywood do not know why they do not understand that now making films on a fixed formula is not going to work. On the one hand, South cinema is creating panic at the box office, on the other hand bollywood is unable to disillusion with remakes and biopic films. Because of this, there is a constant taste of failure. Movies are proving to be disaster not only flop. A new film has been added to this list. Yes, bollywood actress shilpa shetty and abhimanyu Dassani starrer film 'Nikamma' has been released in theaters, which is the hindi remake of telugu film 'Middle Class Abbai'. Made under the banner of sony Pictures international and Sabir Khan Films, the film also stars Shirley Setia, abhimanyu singh and sachin khedekar in lead roles. The story of the film is written by venu Sriram, Sabir Khan and Sanamjit Singh Tanwar.
The film 'Nikamma' is getting overwhelmingly negative reviews from critics and audience. The story of the film is being told in a clichéd manner. The script is weak. director of the best films like 'Heropanti' and 'Baaghi', Sabir Khan has missed the direction of the remake film. Actress shilpa shetty, who is constantly trying to make a comeback in bollywood, and the film's lead actor abhimanyu Dassani have become victims of over acting. Despite having well-known actors like vikram Gokhale, sachin khedekar, sameer Soni, the film also fails on the acting front. Actor abhimanyu singh is known for his negative roles. But he is also seen ineffective in this film. dabangg looks like a fake in the role of a mafia leader. There is no such reason in the film, for which there is a need to spend precious time and money in the cinema halls.
Shubhra Gupta has written in The indian Express. "Watching a 2.5-hour film Nikamma is nothing short of torture. During this, there was more concern about the future of bollywood than the film. On one hand the makers of South are bringing films based on new concepts and fresh content, on the other hand bollywood is still engaged in imitation. Trying to shine his shop with the help of remake. If it was known earlier that if this would be served in the name of new hero and new film, then it would have been better to stay at home. There is nothing in this film that we have seen for the first time. Everything is the same as it has been seen in bollywood masala films earlier. bike race, fight scene, a hero fight with goons and dance and dance. I do not understand how an artist like shilpa shetty thought of a comeback through such a film, after seeing which bollywood starts worrying.
Times of India's film journalist upma Singh writes, "The biggest problem of this film of Sabir Khan is that everything in it seems hollow from above, because the screenplay is not deep. Even the details of the characters have not been worked upon, due to which you are not able to connect with them. This film of about two and a half hours seems to be quite dragged on it. abhimanyu Dassani has become a victim of overacting. If he has to come out of the shadow of his mother Bhagyashree, then he will have to work harder on his craft. shilpa shetty is good as Avni. He has played his role honestly. Shirley Setia just looks cute. abhimanyu singh settles as a villain. If you show the famous buildings like Imambara of lucknow, Ghantaghar, Hazratganj and lucknow University by telling the city of Damli, then the story is not going to be trusted anyway.
Pankaj Shukla, senior film critic in amar Ujala, wrote, "Somewhere in the brick, somewhere, Pandora added the family, the category film Nikamma is such a waste of about two and a half hours of time, whose fault is only and only before this film its smog. Only propaganda can be given. This film is the weakness of the script of Nikamma that apart from shilpa shetty and abhimanyu Dassani, the rest of the actors are also unable to leave any impact. This film is not worthy of Shirley Setia's debut and abhimanyu singh does not have anything new left to show as an actor. The rest of the film's actors are also seen doing just a time pass. Another major weakness of the film is its music. The effect of the remix song Nikamma Kiya Iss dil Ne also does not remain after leaving the cinema hall. The film is a waste of both time and money, it is better not to see it in theatres.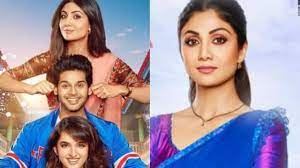 On social media too, most people are giving negative feedback about the film. A user Anmol Jamwal wrote on Twitter, "I am wondering what was the need to make a hindi remake of a hit and popular South film 'Middle Class Abbai'. The entire movie is available on YouTube. Seeing abhimanyu Dassani in the film makes it uncomfortable." akash Patil, tagging actor abhimanyu Dassani on Twitter, writes, "Brother why did you do this film. This is complete torture. It was better to sit in the cinema hall than to bear 2.5 hours that I ran away after the interval. You need to work hard for acting now. It will not happen like this." siddharth Pendharkar also writes very sadly after watching the film, "I saw the film useless. This is a remake of South movie, which is available on YouTube. Scene by scene has been copied.
మరింత సమాచారం తెలుసుకోండి: