Rahul gandhi criticizes "Golden Passport" program in Cyprus...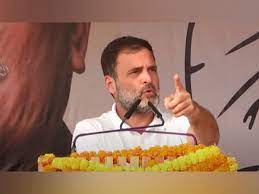 Congress brought up the matter and attacked the Center vehemently after it was revealed in the media that 66 Indians, including gautam Adani's older brother Vinod adani, were among the businessmen who obtained a "Golden Passport" in Cyprus. 'perfect passport' signifies a perfect opportunity for fraud - take public money, create a shell company and fly it overseas. rahul gandhi asked, "Why did the brothers of 'Param Mitra' leave india during Amrit Kaal?" in a post on his social media platform 'X' on november 5.
Gandhi was retaliated against at the same moment by amit Malviya, the ruling BJP's IT cell head at the central government, who remarked, "You rolled out the red carpet for investors by ignoring capital gains tax, whereas cyprus does not impose such a tax." This, along with the low withholding tax rate, makes for a perfect combination for establishing tax havens in cyprus and luring investors from both the corporate and individual sectors.
Offshore companies: what are they?
There are two definitions for offshore corporations in the Cambridge Dictionary. As per the Cambridge Dictionary, offshore corporations are those that have their headquarters in a different nation and conduct the majority of their operations there. To save taxes, these companies were opened there. These businesses operate in tax haven nations in order to gain from financial, legal, or tax advantages. These businesses are exempt from a wide range of taxes, such as capital gains tax, corporation tax, and income tax. We would like to inform you that offshore businesses are completely legal. These companies also have various legal schemes in place, albeit their validity is a subject of constant discussion. Some experts argue that offshore businesses engage in a wide range of illicit operations in defiance of all applicable regulations.
మరింత సమాచారం తెలుసుకోండి: