Famous Actor met with a terrible accident..!?

Sharwanand, who is a leading actor in the telugu film industry, was involved in a car accident last night which has left his fans shocked. This news has shocked tollywood celebrities and sharwanand fans. sharwanand reportedly sustained minor injuries in the accident. Actor sharwanand was traveling in a Range Rover at the film nagar junction in hyderabad when the accident apparently took place this morning. After the car accident, the bystanders immediately rescued sharwanand and admitted him to the hospital. The fans heaved a sigh of relief knowing that sharwanand suffered only minor injuries.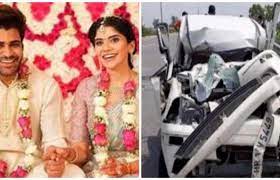 Sharwanand's family has not yet given any information about the incident. It seems that Sharwanand's car hit the divider as he was trying to avoid hitting the oncoming two-wheeler. As he was traveling in an expensive Range Rover car, the safety features worked well, which is why he escaped largely unhurt. However, neither the police nor the family have officially announced the accident. However, Sharwanand's family is relieved to have escaped with minor injuries.
Sharwanand is getting married to Rakshitha reddy on june 2nd and 3rd. Preparations for Sharwanand's wedding ceremony are currently underway at the Leela Palace in Jaipur. Everyone knows that sharwanand and Rakshitha reddy got engaged last january in Hyderabad. A week before the wedding, sharwanand met with an accident which is being talked about a lot.
మరింత సమాచారం తెలుసుకోండి: