Prabhu deva became a father again at this age..!?

Actor prabhu deva, who is a leading actor, choreographer, director, and producer in the world of tamil cinema, is known for his multi-talented talents and married his first wife Ramalatha in 1995. There was a difference of opinion between the two of them, it exploded and at one point it went to divorce. Actress Nayanthara was the main reason for this. Prabhu was in love with Nayan for life and death... their relationship ended up getting married.
While prabhu deva has been focusing on directing films and acting after Nayanthara's love failure, there were reports that prabhu deva secretly married physiotherapist Himani Singh in 2020. This information was confirmed by Prabhu Deva's elder brother Raju Sundaram. prabhu deva, who avoided coming to public places with his wife for two years after his marriage, came to the tirupati Ezhumalaiyan temple with his second wife Himani Singh on his birthday last april and had darshan of Swamy.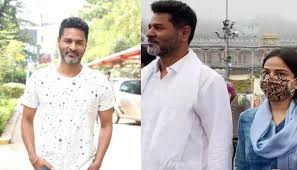 The news has come out only now when the baby is a few months old. It is also said that Prabhudeva came to tirupati with his second wife to pray for a child. While Prabhudeva's ex-wife had only male children, his elder brother and younger siblings also had male children. So now the first girl child has been born in the prabhu deva family, it is said that the family is extremely happy. Many fans are also sending their best wishes. It is noteworthy that prabhu deva is currently acting busy in several films.
మరింత సమాచారం తెలుసుకోండి: