Buzz!!Fatman Ravindar & Mahalakshmi Divorce??
Recently, Mahalakshmi of the tamil television business wed producer Ravinder Chandrasekhar. Since she wed him, the world has become interested in the details of their marriage. The couple was now compelled to address the allegations of divorce that had been made against them. Ravinder chandrasekhar responded to the divorce allegations by posting on his official instagram account that there has been no such thing as of now. 
Several YouTube channels have posted claims claiming that they both divorced. producer Ravinder chandrasekhar and video jockey combined to make news after they wed secretly. Mahalakshmi, a television actress, has been sharing numerous photos of herself after getting married on social media to show off their joy. Mahalakshmi recently wrote a blog post in which she claimed that bigg boss analyst made her life wonderful. Ravinder posted "I love you Pondattii" message to the actress in the interim on his facebook page.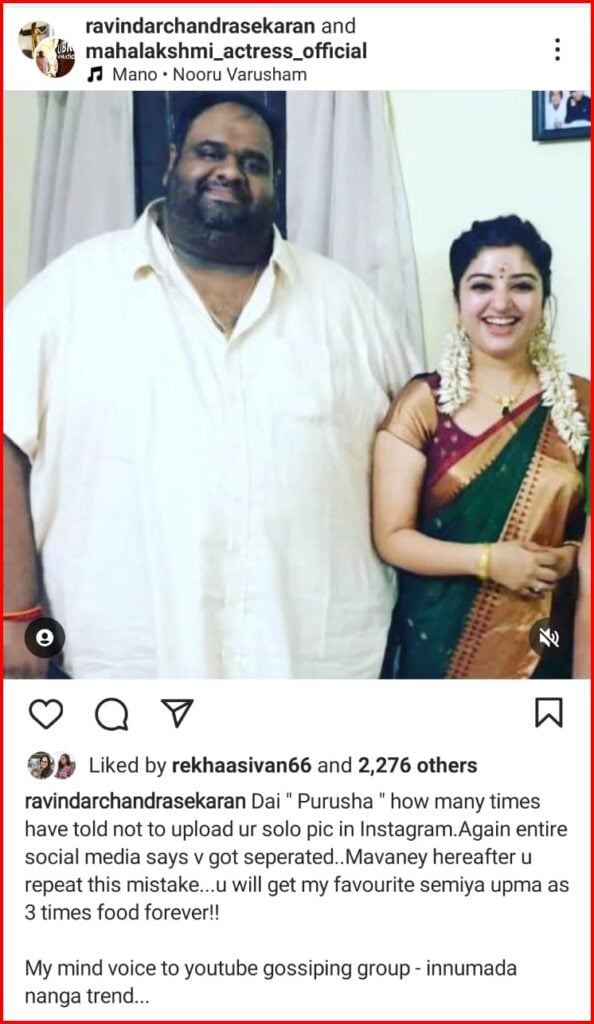 Ravinder and Mahalakshmi recently posted a humorous statement to their instagram account regarding the current reports of their marriage divorce rumors. "Dai Purusha," How many times have I advised you not to post a solo photo on Instagram? Once more, social media as a whole claims that we split up. Please don't make the same error again. Ravinder Chandrasekhar's caption - Are we still trending in youtube and for the  group of gossipers!! 
మరింత సమాచారం తెలుసుకోండి: