Neha Marda reveals the cute name of her 2-month-old daughter, shares cute glimpse of her darling
TV actress Neha Marda has finally revealed the cute name of her daughter along with an adorable glimpse of her. Let us tell you.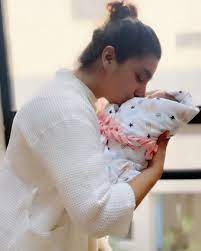 Television actress Neha Marda is currently enjoying the best phase of her life (motherhood) . She embraced motherhood for the first time with the arrival of her daughter on 7th april 2023 via pre-mature delivery. Since then, Neha has been constantly updating fans with glimpses of her journey as a new mother. Now, they have revealed their daughter's name and shared the first post from Nanhi's private social media account.
Neha Marda revealed the name of her two-month-old daughter
On 9 june 2023, Neha Marda shared the first post from daughter's personal insta handle. In the picture shared by the actress, her two-month-old baby girl can be seen engrossed in sleep and she is looking very cute in a white lacey dress. The girl was also given a matching hairband. Along with this, Neha revealed the name of her daughter- Anaya Aggarwal in the caption. He wrote in the caption, "Mummy Neha and Papa Ayushmann welcome the new member in the family! 'Anaya Aggarwal'."

When Neha Marda talked about conceiving at the age of 34On 5 june 2023, Neha Marda posted a video on her YouTube channel, in which she told about conceiving her first child at the age of 34. Talking about how the quality of eggs decreases with age, she mentioned the importance of conceiving within 30s.


She also revealed that if she had conceived in her 20s, she would have faced fewer complications. She had also said that post pregnancy she is facing back pain and problems in working, as she gave birth to her baby girl late.

When Neha talked about the mother-child bond
On 5 june 2023, Neha shared an adorable video with her baby girl on her instagram handle. The priceless video featured the new mother holding her baby girl in her arms while she slept on his shoulders. The video was accompanied by the actress talking about the mother-child bond and revealing the possible reasons why a baby cries. The video really connected with all the mothers.

When Neha shared the first picture with her daughter
Neha Marda posted the first picture of the baby girl on 8 april 2023 from her insta handle. In the picture, the new mother can be seen planting an adorable kiss on her daughter's lips, which has melted many hearts. The mother-daughter duo looked very cute together.



The little girl was wrapped in an adorable dress with rainbows, stars and clouds. Whereas, Neha was flaunting her casual look in a white outfit and absolutely no makeup look. The actress had penned a heartwarming note along with the picture.

మరింత సమాచారం తెలుసుకోండి: