Samantha and priyanka chopra could cross paths..!!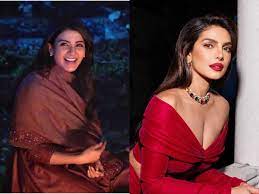 Priyanka Chopra and samantha Ruth Prabhu both currently exist in the Citadel universe, which unites them in one way. samantha will appear in the indian counterpart of the series, which is being led by Priyanka. Samantha's character's specifics are yet unknown, although a recent episode of Priyanka's Citadel seemed to have made a hint that she would be portraying Priyanka's mother.
In the fifth episode, Priyanka's character Nadia receives a call, and it is soon discovered that the caller is Rahi Gambhir, who is Nadia's father. It became increasingly obvious that varun dhawan was playing Rahi as the sequence progressed.
The floodgates of theories concerning Samantha's place in the Citadel universe have been opened by this event. There is a lot of buzz about samantha possibly playing Priyanka's mother in the show. Citadel india may have taken place around the late 1980s or early 1990s based on the sequence of events. The creators have not yet responded to these charges.
Samantha affirmed Citadel india is not a remake of the worldwide version and is only tied to it, which lends strong credibility to the rumours. After a fan contacted samantha to inquire about the news, samantha shared it with them. The actress from Shaakuntalam responded by saying Citadel india is not a remake. It's not a copy, she exclaimed.
మరింత సమాచారం తెలుసుకోండి: