Allu arjun loved shruti before marrying Sneha!?

Telugu indian idol season 2 streaming on Aha has come to an end. The team has planned the final episode of this season without going down from last season. allu arjun appeared as the final guest of season 2. allu arjun participated in the telugu indian idol program and joked with the contestants and mentors. At the same time, he shared many things. After telugu indian idol 2 contestant shruti sang the song, allu arjun laughed saying that he like her name very much. After that, bunny commented that his first girlfriend's name was also shruti and that's why he likes her name. Then Geeta madhuri responded and commented that a girlfriend means even in the first class. Everyone laughed at that. After another contestant sang a song, allu arjun made interesting comments about his father.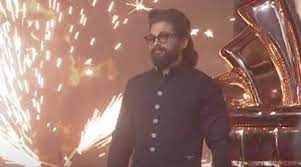 He doesn't know what god is like. His father is his god who has given him so much. He said that he is the one he respects and admires. In this show, allu arjun also had a fun talk with the hero Jagdish, who came to promote his film. bunny made many funny remarks on him.
మరింత సమాచారం తెలుసుకోండి: