Rajini spoils his name by following Ilayaraja..!?

Apart from acting in films, Superstar Rajinikanth is also deeply involved in spirituality. He puts god first in his every move, including going to the himalayas once a year to visit baba there, and worshiping raghavendra Swami's photographs from home to office. Fans cheer and celebrate just to hear his patient and stylish speech on the festival stage. Rajinikanth, who participated in a function held recently, said that he was a heavy drinker till his marriage and used to eat non-vegetarian food every day.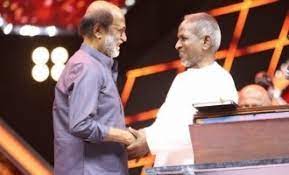 But after marrying his wife Latha, he said that it was because of her that he gave up these two habits. Speaking further, Rajinikanth implied that those who use his images and voice commercially must pay him. While this speech of his went viral, music composer ilayaraja also caused controversy recently by saying that whoever sang his songs on stage should get money and his permission. At that time when ilayaraja had no film opportunities, the late singer S. P. B. helped Ilayaraja.
He said that if he wants to sing songs on the stage, he needs to get his consent. Many criticized ilayaraja for speaking like this as showing his vulgarity and it was an encouragement of arrogance. ilayaraja and Rajinikanth are the biggest pillars in tamil Nadu. In his 80s, the song composed by ilayaraja in Rajinikanth's films went viral all over. Many people are criticizing that it is not even a little right to think of earning like this from people when these two have grown up today. Their fans are complaining that they are only focused on money even though they are both spiritualists. Rajinikanth has said that he is spoiling his name in the style of Ilayaraja.
మరింత సమాచారం తెలుసుకోండి: