Asian Games 2023: India's medal tally rises to 10..!?

Indian players have won 5 medals, including gold in the Asian Games. As a result, India's medal number has reached 10. indian players have been hunting medals from this morning at the Asian Games. The indian players won the two bronze medals in the paddle boat category that started this morning.
Similarly, the men's team won gold in the 10-meter air rifle match. This is the first medal of india to win the Asian Games for the current year. india won the first gold. In addition, Rudranh Patil, Divyansh Panwar, and Aishwari Tomar have set a new world record. So far, China's 1893.3 points were the highest in the World Championships in the 10-meter air rifle shootout.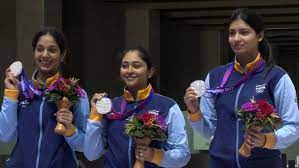 The indian team has broken China's record of 1893.7 points. The indian men's team has won bronze in the 25-meter Rapid fire Pistol shooting category. India's Anith Banwala, Vijayveer Sidhu, and adarsh Singh have won bronze. Similarly, India's Aishwari Pratap Singh Tomar won bronze in the 10-meter air Rifle Individual category. Due to this, India's medal number has risen to 10. This is indeed India's top achievement.
మరింత సమాచారం తెలుసుకోండి: