YouTuber armaan malik got his kids Zaid-Ayaan and Tuba photoshoot done, looked very cute while sleeping
Recently, YouTuber armaan malik shared some pictures from the photoshoot of his three kids Zaid, Ayaan and Tuba, which are very cute. Let us show you.

Famous YouTuber and content creator armaan malik is a well-known name in the world of social media, who is famous for his two marriages. In april 2023, both his wives Payal Malik and Kritika Malik became mothers of three children. While Payal welcomed twins Ayaan and Tuba, Kritika embraced motherhood for the first time with the birth of son Zaid. Recently, Armaan has done a photoshoot of his three children, some of which he has shared on his instagram account.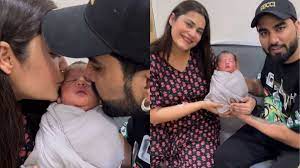 Armaan Malik did Zaid and Ayaan-Tuba's photoshootOn 5 june 2023, armaan malik shared some beautiful pictures of the photoshoot of his three children Zaid and Ayaan and Tuba from his instagram account, in which all three children are very cute while sleeping. In the first photo, we can see all three kids together, where Kritika's son Zaid is seen lying on a white sofa wrapped in a yellow swaddle, while Payal's twins Ayaan and Tuba are also seen in blue and cream swaddles. Can be seen sleeping.


Apart from this, Armaan has also shared single pictures of the three children, in which his only daughter Tuba is seen wearing a pink colored swaddle and matching cap. makeup accessories can also be seen surrounding Tuba's basket in the photo, giving off the perfect girlish vibe.


In the next photo, Tuba's twin brother Ayaan looks adorable sleeping in a white swaddle and a beanie cap. At the same time, Kritika's son Zaid is also looking very cute in his 'Harry Potter' look, from whom it is really difficult to lose sight. Sharing these pictures, Armaan wrote in the caption, "My precious gems, Zaid Ayaan and Tuba."


When armaan malik got trolled for wrapping babies in swaddle
Earlier, armaan malik had shared a video of his photoshoot with Payal's twins Ayaan and Tuba. In the video, the babies were seen wrapped in swaddles. However, as soon as the video surfaced, a section of netizens started trolling her for wrapping babies in cloth. A user wrote, "Children have trouble turning like this, don't bend them like this."

Armaan Malik, who was in limelight for his personal life, was blessed with three children in april 2023. While his second wife Kritika embraced motherhood for the first time with the birth of their son Zaid on 6 april 2023, Payal became a mother for the second time on 26 april with the arrival of twins Ayaan and Tuba. He also has a 7-year-old elder son, Chirayu Malik, who is a famous YouTuber like his parents.

మరింత సమాచారం తెలుసుకోండి: