Indian player breaks the hopes of rahul Dravid..!?

Shardul Thakur, who continues to get a chance in the indian team, broke coach Dravid's confidence in him in the first match against the Australian team. All the bowlers of the indian team performed well in the first match against the Australian team. Except Shardul Thakur. He recorded such a poor bowling performance.
Also, Thakur, who is known as a bowler who takes wickets whenever the captain asks him to take wickets, did not do that in that match either. In the first match against australia in Mohali, india bowled first. shami and bumrah bowled tremendously in the first eight overs and kept the run rate at a rate of 4 runs per over. Next came shardul thakur who started pouring in runs. In between, shami took 5 wickets while bumrah, Ashwin, and Jadeja took 1 wicket each.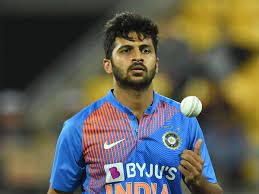 But, Thakur kept on giving only runs without taking a wicket till the end. Dravid who is conducting the audition for the world cup had given away 78 runs at the end of 10 overs. The other four bowlers had given a maximum of 51 runs. So you can understand how badly Thakur is throwing. Many people are worried about Shardul Thakur's status as he is still in the world cup squad. Talking about it before this match, indian team coach rahul dravid has faith in Shardul Thakur. He had claimed that he would take wickets in this match. But shardul thakur has completely broken his faith. He should stop giving away runs in the next match at least.
మరింత సమాచారం తెలుసుకోండి: