Samantha was 100 percent honest..!? Breaks truth..!?

Actress Samantha's comment about divorce has created a buzz in film circles. Popular actress samantha got divorced from her ex-husband naga chaitanya in october 2021. samantha is suffering from myositis disease and was undergoing full treatment for it. Actress Samantha's tearful statement about this at the recently released Yashoda program caused concern among the fans. Actress samantha spoke openly about her struggles with the disease and it can be said that it gave confidence to many.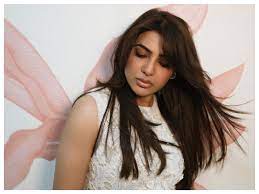 The video of Samantha's speech during the promotion of her upcoming film 'Shagunthalam' is going viral on social media. In it, she shared about working on the song 'Oo Solriya Mama'. Then every one of her well-wishers and family members advised her not to dance to an item song, but she was determined to do it. She doesn't want to stay in the same house after the divorce. She didn't do anything wrong. samantha also shared that she was 100 percent genuine.
Fans are trending this video where samantha spoke. samantha also shared the symptoms of myositis disease. Daily she had puffy eyes and she sometimes felt so fat. She was suffering from this disease for the past 8 months.
మరింత సమాచారం తెలుసుకోండి: