Rahul gandhi lashed out at Modi govt-5 big things...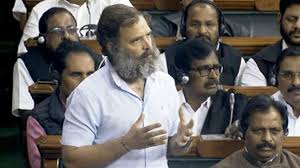 Congress leader rahul gandhi surrounded the Modi government through gautam adani in the Lok Sabha. He directly made big allegations against prime minister Narendra Modi. What such things did rahul gandhi say, on hearing which bjp MPs were shocked, let's understand in 5 points.
1. How to number 2 from 609?
Rahul gandhi gave the credit of Adani's growth to prime minister Narendra Modi. He said that I have all the proofs, I will also give the proofs. But when gautam adani has zero experience in the defense sector, how did he get the work of defense companies. rahul said that magic has started after Modi became the Prime Minister. adani who was at number 609 in the list of rich in 2014, how did he reach at number 2 today.
2. How did you get the airport job?
After the defense, the congress leader raised questions on getting the work of the airport. He said, how is Adani's business in every field. Earlier Modi used to go in Adani's ship but now adani goes in Modi's ship. rahul asked, how did adani get the work of 6 airports. 
3. Whose fake companies?
Targeting the government in the House, rahul gandhi asked to whom thousands of crores of rupees in these shell companies belong. Whose are these fake companies, whose money is it. people are asking what is PM Modi's relation with Adani. PM Modi gave the contract to adani after going to Israel. 
4. Why LIC-SBI money to Adani?
Even though LIC's money was invested in adani Group, rahul gandhi surrounded the Modi government. He said, 'Why has LIC's money been given to Adani?' government banks like SBI, PNB are giving money to Adani.
5. Three questions to PM Modi
Rahul said that I have three questions to prime minister Narendra Modi. First- How many times did adani accompany PM Modi on foreign tours. Second- After how many days adani visited the country you visited. Third- In how many countries did adani get contracts after PM Modi's visit?
మరింత సమాచారం తెలుసుకోండి: