Doctors achieved a feat by removing a leiomyoma tumor..!?

Doctors have said that this is the first time such treatment is happening in Chennai. Doctors from Clinicals Global health City, a private multi-specialty quaternary hospital in chennai, have successfully treated a patient suffering from a leiomyoma tumor. This type of tumor measuring 8.5x3 cm has been treated for the first time with the help of endoscopy. A 54-year-old man from chennai was diagnosed with a tumor called leiomyoma in the esophageal wall. The patient was unable to eat and experienced digestive problems as the tumor pressed on the tubes in the trachea and chest. On 25th July 2022, the tumor was found to be 8.5x 3 cm in size by EUS-assisted biopsy and CT scan, the tumor removal procedure took 6 hours. Removal of a tumor of this size using the endoscopic method is a rare event, and the postoperative complications associated with this method are minimal.

While describing the treatment, Dr. vishnu A Raju said the tumor was 5 centimeters in diameter, which is very rare. This type of surgery is usually performed through an open or thoracoscopic approach, with longer recovery times. After closing the esophagus with clips, they performed endoscopic surgery to remove the tumor. The tumor was removed using a unique technique called Per Oral Endoscopic Tunneling and tumor Resection. With this technology, the patient recovered quickly and had no other symptoms. This is the first time such treatment is being done in Chennai. Since the completion of the treatment, the patient's health has been stable and he can carry out his daily activities, as usual, he said. The highly complex treatment was carried out by a team of doctors comprising Dr. vishnu Abhishek Raju, Consultant Medical Gastroenterology & Therapeutic Endoscopy, and Dr. M. Srinivas, Senior Consultant - Medical Gastroenterology & Therapeutic Endoscopy.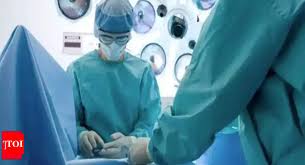 While congratulating the medical team for the success of this treatment, Managing director Dr. Alok Gullar said that these rare surgeries are performed with great care and precision to minimize the patient's discomfort. They are proud to be pioneers in performing endoscopy for the removal of large tumors. He congratulates the entire GGHC team for making this treatment a success.
మరింత సమాచారం తెలుసుకోండి: