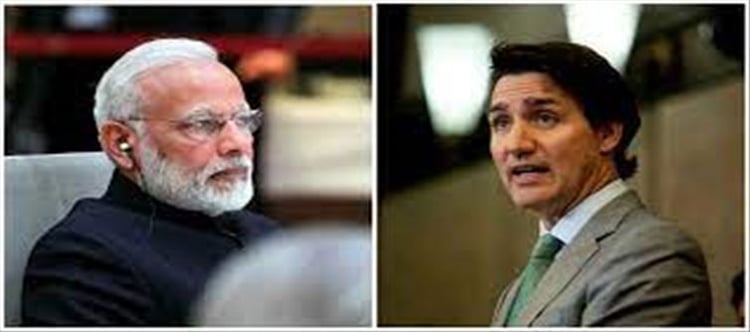 Canadian prime minister Justin Trudeau is surrounded and trapped. While addressing his Parliament, he has
held india responsible for the killing of Khalistani terrorist Nijjar. Along with this, he also ordered a diplomat
of the indian Embassy to return. india has lodged a strong objection to this and has ordered a top Canadian
diplomat to leave the country within five days. Meanwhile, Justin Trudeau also appealed to his Western allies
to support his statement, but Britain, America and australia returned him like a coin. Seeing the statement
boomeranging, Trudeau started a whitewash on the evening of september 19 itself and said that he did not
want to provoke india, but he wanted the matter to be investigated. Meanwhile, India's Foreign Ministry has
also issued an advisory for indian citizens and students amid tension. There are speculations that Canada's
foreign embassies may also be lightened, meaning that by reducing the number of employees, security may
also be reduced.
Strict steps and advisories of the Ministry of External Affairs
Indians living in canada are in tension after the absurd statement of Canadian prime minister Justin Trudeau.
First, the Foreign Ministry lodged a strong objection to Trudeau's statement and rejected it on september 19,
calling his statement extremely childish and creating tension. After this, today i.e. on wednesday 20th
september, the Ministry of External Affairs has issued an advisory for indian citizens and students. The
Ministry of External Affairs has said in its advisory that indian citizens and students living in canada are urged
to exercise extreme caution in view of the increasing anti-India activities and criminal violence there. Along
with this, india has also advised its citizens traveling to canada to exercise caution.
మరింత సమాచారం తెలుసుకోండి: