Manobala's long-time wish was not fulfilled..!?

With the death of actor and director manobala today, we can now see his unfulfilled dream in cinema. Actor manobala was born on december 8, 1953, in Sulur near Coimbatore. A painting graduate from the government College of Arts, he was part of the famous "Azhwarpet" group that included Kamal, mani ratnam, Santana Bharati, PC Sriram, Robert-Rajasekhar, and others. Kamal's house was their shelter. It was Ulaga Naayagan who introduced manobala to Iyakunar Sigaram Bharathiraja. manobala has a wife named usha Mahadevan and a son named Harish. He is working in the USA. While working there, he fell in love with a tamil girl and married her with the consent of her parents. Currently, Manobala's son Harish is living in America with his wife.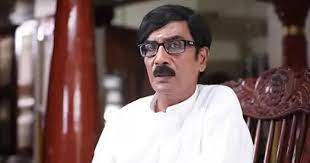 Actor Manobala's sudden death today has come as a shock to many. Many celebrities are condoling his death. In this situation, we can now see the unfulfilled wish of manobala in cinema. ponniyin selvan was a dream film in tamil cinema. Starting from mgr to Kamal Haasan, many legendary directors wanted to make ponniyin selvan as a film. But it was not fulfilled. Finally, it was mani ratnam who made tamil cinema's long dream come true. The first part of ponniyin selvan was released last year and the second part was released last week and has been receiving a huge response. manobala was one of the directors who tried to take the wealth of this lady. Manobala, who had an insatiable love for Ponniyin Selvan's story, tried thrice to make the film. All three times his efforts have ended in failure. manobala himself said in an interview that he was not able to take this story till the end, which he had tried so desperately to film.

మరింత సమాచారం తెలుసుకోండి: