World Gratitude Day - History...Appreciate People!!!
World Gratitude Day, observed on september 21 each year, serves as a reminder of the value of showing gratitude to others by saying thank you and appreciating their efforts. It's a day meant to emphasise the value of expressing gratitude and appreciation to those around us. People's bonds can be strengthened by showing each other appreciation. While many people think it is not necessary to consistently show kindness, a few kind words and expressions of gratitude can change the world.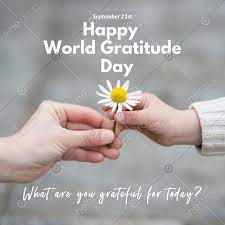 The power of appreciation and gratitude has been studied since 1965. Since then, every year has seen the celebration of World Gratitude Day. The idea originated with Sri Chinmoy, a spiritual guide and meditation instructor, during a Thanksgiving dinner in the meditation room of the United Nations. Everyone at the dinner table vowed to organise an event in their home nation each year on the day he proposed as a global day of gratitude.
The remainder of the evening was spent debating communication strategies between the nations. Following that, World Gratitude Day was first observed in a number of nations in 1966. The day has been observed every year since then. A resolution to recognise the day was requested later in 1977 by a group of Sri Chinmoy's devotees. However, peace chanting at the UN helped to support the day.
మరింత సమాచారం తెలుసుకోండి: