You should not beg like this... Kamal in anger..?

Kamal Haasan, who is called the Ulaganayagan by his fans, has been acting in tamil cinema for many years. Kamal is so amazing that he is said to be second only to Sivaji, and he does a lot of talking about it. For example, no matter how difficult it is for the role he chooses, he will do it without hesitation. He has also acted in many films by changing his body. In that way, he will go to any extent to give a great film.

But recently, actors in the film industry exaggerate even the smallest things and report them on social media. In other words, even if they get a small injury during the shooting, they would take a video of it immediately and say that they struggled to act in this film and experienced a lot of pain.
A journalist questioned Kamal about this. kamal haasan replied that there is no pain no gain policy as far as cinema is concerned. That is, if we are acting in a film, we cannot help but suffer. The film will be good only if it is difficult. We should not tell the fans about our hardships. If you say he has a broken leg or a broken hip, the fans will not accept it.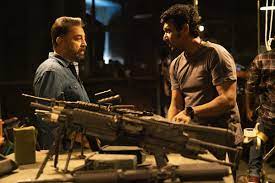 And the fans have to say how well he is playing despite the broken leg. That's what they want too. Don't ask for money like the beggars who sit outside the temple saying they have a broken leg. He replied that we should get money by showing our skills.
Through this, he has given suitable advice to the actors of today's generation. director Lokesh said that even while acting in Vikram, kamal haasan danced well despite suffering from severe leg pain. This shows Kamal's passion for acting.
మరింత సమాచారం తెలుసుకోండి: