Vaarasudu, the film project of Vijay Thalapathy and Vamshi Paidipally, has received notice. The film's producer,
dil
Raju, and crew have been questioned by the Animal Welfare Board over allegations that they used animals for performances without getting prior approval. The notice claimed that the film crew had used elephants in their shots without first obtaining authorization from the board. As a result,
dil
Raju's Sri Venkateswara Creations, the producing firm for the
movie
, receives the notification.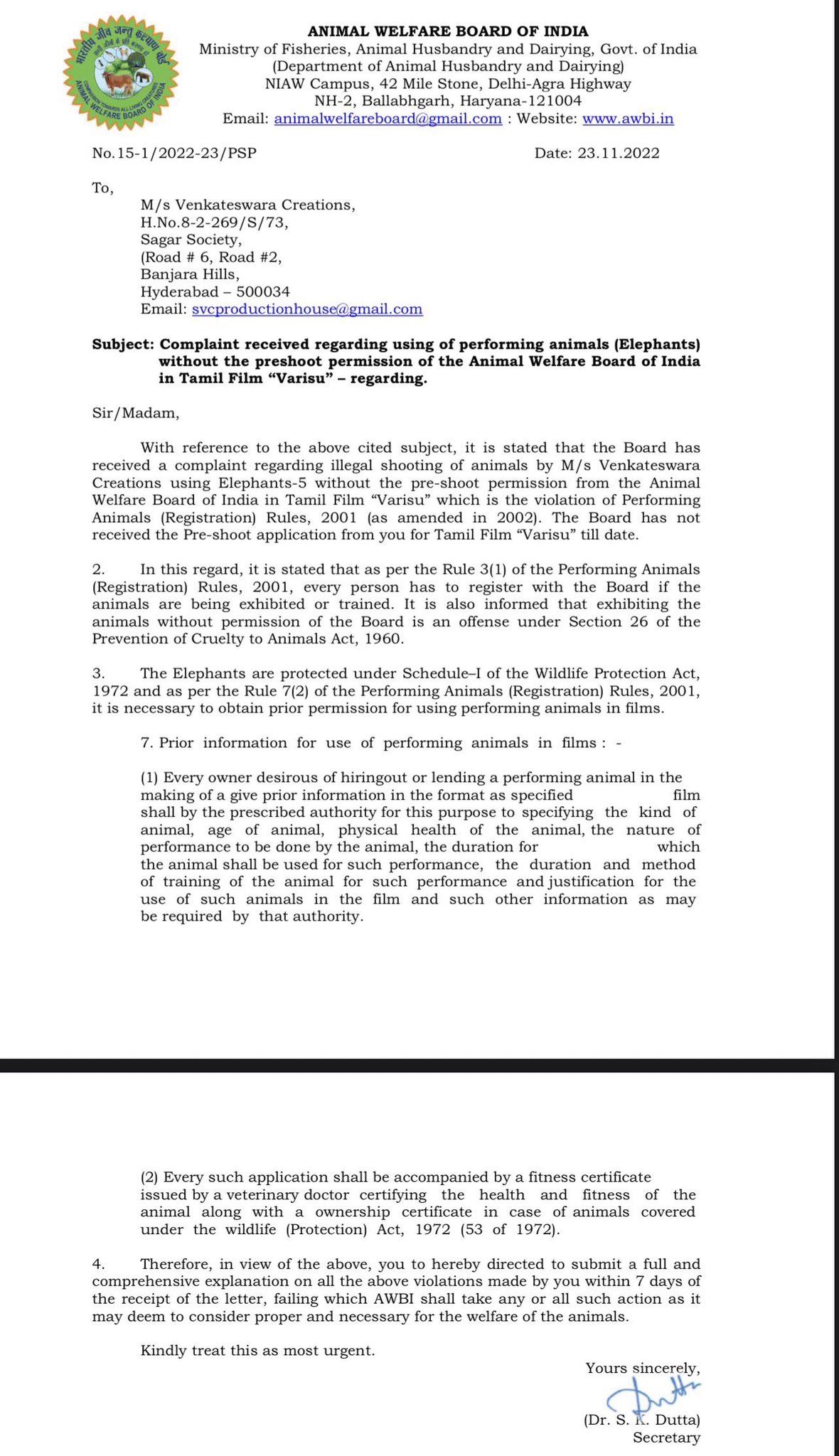 The Performing Animals (Registration) Rules, 2001 have been broken, according to the document (as amended in 2002). It was made quite obvious that the Board did not receive any pre-shoot approval from the film unit. If the animals are being trained or displayed, each person must register with the Board in accordance with Rule 3(1). The notice went on to say that elephants are protected by Schedule I of the Wildlife Protection Act of 1972 and that, in accordance with Rule 7(2), the Board must first get prior authorization before doing anything with them.
The Ministry of Fisheries, Animal Husbandry, and Dairy of The
government
of
india
oversees the operations of the Animal Welfare Board of India. It belongs to the Union Ministry. It is well known that Vijay Thalapathy and the Modi administration had some political issues because the former's prior
movie
made fun of the GST. The most recent warning from the Animal Welfare Board may enrage Vijay and his supporters even more. But it's crucial to abide by the law and the norms. The team hasn't yet responded to the warning or the reports in the media.
మరింత సమాచారం తెలుసుకోండి: