Vijay Antony's first public statement: "I died with her..."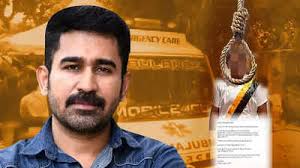 Vijay Antony, an actor and music director, released his first statement on thursday following the death of his daughter, who was 16 years old. On Tuesday, meera allegedly committed suicide at her home in Chennai. vijay antony claimed in a post on X that his daughter had left for a "better and peaceful place" that was free of "caste, religion, money, jealousy, pain, poverty, and hatred." "Dear people, my daughter meera is a very kind and brave person," he said in his statement. She left this world for a better, more tranquil place where there is no caste, religion, wealth, pain, poverty, or hatred. She is conversing with me. I perished along with her. I've recently started spending time with her. She will initiate all the good deeds I will carry out in her honour.
One of the two daughters of actor vijay antony and his wife Fathima was named Meera. She was reportedly dealing with stress and was a 12th grade learner at a private school in Chennai. When meera arrived at the hospital in Mylapore, she had already been pronounced dead. The child was taken urgently to a private hospital in Mylapore early this morning, according to a senior police officer. Physicians pronounced [her] brought dead. The child appears to have committed suicide.
మరింత సమాచారం తెలుసుకోండి: