Famous cricketer acting in cinema?

Shubman Gill is one of the cricketers who grabbed attention in the recent IPL season. Hailing from Punjab, he played for gujarat in this IPL season. He said that he now wants to act in cinema. Shubman Gill is seen as the main player of the gujarat team in the IPL. He had performed so well that he made the opponents tremble as soon as he stood on the field. He has also said that he wants to act in cinema. Spiderman movies are very popular in India. In particular, the recently released films Spider-Man Far From home and Spider-Man No Way home were huge hits. In this situation, a new movie named Spider-Man Across the Spider-Verse (spider-man: across the Spider-verse) has been created. This is a film where Spider-Men from many countries come together. Shubman Gill has been dubbed for Spider-Man in punjabi and Hindi. The film releases tomorrow (June 2).

After dubbing for Spider-Man, Shubman Gill was asked about cinema and his experience dubbing for a hollywood film. It was then that he expressed his desire for cinema. He thinks he should learn acting. He can't say for sure whether he will act in films or not. However, acting and cinema have not made him enjoy them many times. If he has the art of acting, he considers it the greatest thing, said Shubman Gill about cinema.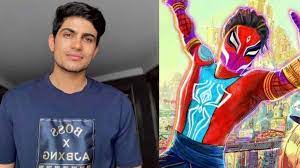 It is said that Gill, who wants to develop himself for acting in cinema, is also going to undergo training for this. He wants to act one day in his life, says Shubman Gill. Gill has also said that he was dubbed for Spider-Man because he had a desire for cinema. Shubman Gill, who delighted the fans with his excellent batting on the cricket ground, is now going to delight the fans through cinema as well.

The rumor that Sachin Tendulkar, who is known as the legendary cricketer, is the father-in-law of Shubman Gill has started since the beginning of Shubman Gill's entry into cricket. The reason is that Sachin's only daughter sara Tendulkar and Shubman Gill are reportedly in love. Both of them were going to dinner together and traveling by car. But both of them are not open about their relationship. A few days ago, Shubman Gill and Sarah ali Khan are said to have made love to each other on their social media pages. Due to this, it is said that the love between the two has broken.

మరింత సమాచారం తెలుసుకోండి: