Prabhas made such a disclosure on marriage among the dating roomers with Kriti Sanon, fans will jump with joy
During an event related to Adipurush, prabhas opened up about the marriage rumours. Amidst the rumors of dating Kriti Sanon, he said something that made the fans happy.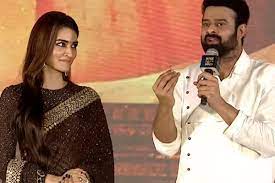 Prabhas, who is counted among the biggest superstars of South, is in headlines these days for his film 'Adipurush'. In this film, he is going to be seen with actress Kriti Sanon. Interestingly, such claims are being made in many media reports that onscreen 'Sita-Ram' are dating each other in real life as well. It is also being claimed that the matter has even reached the point of marriage. At the same time, in the midst of all these rumours, recently prabhas has made such a disclosure regarding his marriage, which will make the fans jump with joy.

Prabhas and Kriti have never spoken about the news of dating, but media reports keep making claims related to their relationship. On the other hand, during a recent event, when prabhas talked about his marriage, once again such rumors started spreading that the relationship between the two has reached the point of marriage. prabhas was talking directly to the fans at an event in Tirupati, during this time the question of marriage was asked. This prabhas also gave the answer.


Many people present in the audience asked, 'When will you get married?'. Hearing this, prabhas said- 'Marriage? I will one day If I get married, I will do it only in Tirupati. It is clear from this statement of prabhas that he has started wedding planning and the fans are not happy to hear this. Many people have even said that after coming into Kriti's life, prabhas is thinking about marriage. Please tell that none of prabhas and Kriti have confirmed the news of dating.

మరింత సమాచారం తెలుసుకోండి: