Hyderabad's car owners are obviously infatuated with flashy registration numbers! The Regional Transport Authority's (RTA) collections have increased thanks to the mania for those special registration numbers for two- and four-wheelers. Up until august of this year, the RTA offices in the Hyderabad, Rangareddy, and Medchal-Malkajgiri districts sold different fancy numbers for an estimated Rs 55 crore. The RTA authorities are now forecasting a total revenue of Rs 75 crore for this year.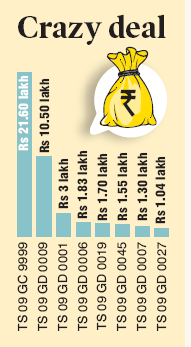 People are prepared to pay more money than they did to purchase the vehicle itself in order to acquire their fortunate or beloved fancy numbers. Prior to the holiday season in particular, the Transport authorities raised Rs 53.9 crore from the sale of fancy numbers in the districts of Hyderabad, Rangareddy, and Medchal-Malkajgiri. By the end of this year, officials anticipate making roughly Rs 75 crore via registrations, compared to Rs 72 crore the RTA made last year. The most popular numbers among car owners are fancy ones like 9999, 0001, 0007, and 0009.

Number 9999 was purchased for Rs 21.6 lakh at the RTA Central Zone headquarters in Khairatabad during the auction held so far this year. The identical number is said to have been purchased for about Rs 12.1 lakh by a driver at the Kondapur RTA office and for Rs 9.9 lakh by a driver at the malakpet RTA. At Khairatabad, the highest offer for the 9999 number was Rs 10.5 lakh. It was also noted that real estate companies, jewellery companies, and other corporate organisations from the city purchased the majority of the expensive car registration numbers.

According to a top RTA official, many individuals believe that the number nine is auspicious and will pay everything to obtain it. Some drivers, according to officials, are also more intrigued by numerals lower than nine. Large numbers of bids are also being submitted for registration numbers like 02 and 1223. The reason for this is that drivers are taking into account any special days, like their children's birthdays, that fall on certain dates. Sometimes, the offer for these numbers might vary from Rs 1,000 to Rs 2,000.



మరింత సమాచారం తెలుసుకోండి: