Fardeen Khan's spot with daughter Diane, people praised seeing the cute gesture
Fardeen Khan was recently spotted with his daughter Diani. Many cute videos of father and daughter are going viral, seeing which people are praising them fiercely.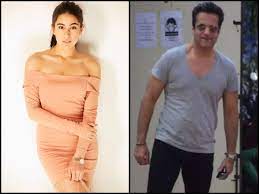 Once upon a time, Bollywood's chocolaty hero fardeen khan (Fardeen Khan) has been away from the film world for a long time. Recently some of his pictures went viral, in which his tremendous transformation (Fardeen Khan transformation) was seen. Now he is fit and also appeared in the IIFA Awards (IIFA Awards 2023). This time daughter Diani (Fardeen Khan daughter Diani) was also spotted with him. A video of Fardeen and his darling has surfaced in which both were seen meeting a woman. During this, seeing the gesture of Diane, people are praising fiercely.


Actually Viral Bhayani has shared a video in which fardeen khan was seen with his daughter. Meanwhile, the actor met a woman and asked her daughter to greet him. Following father's advice, Diane also shook hands with him. Seeing this, Fardeen's fans became very happy. At the same time, people are more surprised to see the transformation of the actor. people are now speculating that he must have worked hard for a film.

This video of Fardeen and his daughter Diane is becoming quite viral. An instagram user wrote 'So cute'. Another wrote about Fardeen, 'He has become smart again'. At the same time, the actor was also seen on the red carpet of IIFA with his daughter.
Fardeen Khan entered the silver screen with the film prem Agan. From the beginning, he had achieved good popularity among the girls, but after just a few films, Fardeen kept disappearing from the films. The car of Fardeen's career suddenly got braked. It is said that while working in films, Fardeen got addicted to drugs and due to this his career was ruined.

మరింత సమాచారం తెలుసుకోండి: