Violence hits-Bomb blast-Schools-Internet closed...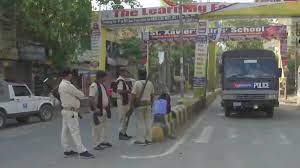 Communal tension continues in bihar after ram Navami. On saturday, this violence took a more gruesome form. There was a bomb blast in Sasaram and six people were seriously injured in this blast. Now heavy force has been deployed in many areas of Bihar. Schools have been closed. In view of the danger of spreading communal tension, internet services have also been stopped in some areas. At the same time, bihar police says that now the situation has been brought under control and the situation is peaceful. bihar police has also arrested 45 people on charges of incidents of violence.
So far, about a dozen people have been injured in the violent incidents in Sasaram of Nalanda district and bihar Sharif of Rohtas district. Six people were injured in the blast in Sasaram on saturday night. police has told that the injured have been referred to BHU. At the same time, due to communal tension, internet services have been completely stopped in Rohtas district.
Following new unrest that broke out in the state on saturday evening, five people were hurt in a bomb explosion in the bihar town of Sasaram, according to the police. Officials reported that a forensic team had been dispatched to the scene and that the injured individuals had been brought to a hospital.
మరింత సమాచారం తెలుసుకోండి: