Strawberry Soldiers of Taiwan!!!
Ever since US Speaker Nancy Pelosi visited taiwan, china has become restless. Expressing displeasure over this, they started military exercises in areas close to Taiwan. Meanwhile, china has also threatened America. But questions are also arising that if there is a war between china and taiwan, then whether the military strength of both is equal to each other! Will taiwan be able to stand before the power of China? An interesting fact has emerged in the answer to these questions. The thing is that Taiwan's military strength is very less in front of China. Even on this, the youth of taiwan adopt various methods to avoid joining the army. They were called as strawberry Soldiers in Western media.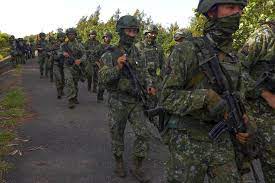 In the midst of the Sino-Taiwan war, at this time all the focus of the world has shifted to the strawberry Soldiers of Taiwan. On the one hand, china is encircling taiwan like never before, and on the other hand, there are young people from taiwan who do not want to get involved in any way with China. According to the Euro Asian Times report, most of Taiwan's youth want a good and stable career. Neither do they want to go into the army nor do they want to have any kind of dispute with China? This is the reason why these people keep on eating hamburgers to increase their weight. Cannot join the army due to weight gain. 
Questions also arise about training
In fact, military recruitment was mandatory in taiwan, but it was abolished due to public opposition. Due to this, the number of army in taiwan has also decreased significantly in the last decade. Four months of basic training is now given to all the youth as compulsory army recruitment. Some youth do not want to be involved in this too and to avoid this, they gain weight.
మరింత సమాచారం తెలుసుకోండి: